SCTX08 comfortable nonslip fur slide colorful women fluffy slippers
Product Description
#detail_decorate_root .magic-0{width:750px}#detail_decorate_root .magic-1{overflow:hidden;width:750px;height:375px;margin-top:0;margin-bottom:0;margin-left:0;margin-right:0}#detail_decorate_root .magic-2{margin-top:0;margin-left:0;width:750px;height:375px}#detail_decorate_root .magic-3{border-bottom-style:solid;border-bottom-color:#53647a;font-family:Roboto;font-size:24px;color:#53647a;border-bottom-width:2px;padding-top:8px;padding-bottom:4px}#detail_decorate_root .magic-4{vertical-align:top}#detail_decorate_root .magic-5{vertical-align:top;display:block;padding-right:4px;box-sizing:border-box;padding-left:4px}#detail_decorate_root .magic-6{vertical-align:top;padding-bottom:4px;box-sizing:border-box;padding-top:4px}#detail_decorate_root .magic-7{padding:0;margin:0;white-space:pre-wrap;font-size:14px}#detail_decorate_root .magic-8{font-size:18px}#detail_decorate_root .magic-9{width:750px;border-collapse:collapse}#detail_decorate_root .magic-10{min-height:18px;padding:5px 10px;width:126px;min-height:18px;box-sizing:content-box}#detail_decorate_root .magic-11{min-height:18px;padding:5px 10px;width:577px;min-height:18px;box-sizing:content-box}#detail_decorate_root .magic-12{overflow:hidden;width:750px;height:750px;margin-top:0;margin-bottom:0;margin-left:0;margin-right:0}#detail_decorate_root .magic-13{margin-top:0;margin-left:0;width:750px;height:750px}#detail_decorate_root .magic-14{overflow:hidden;width:750px;height:290.625px;margin-top:0;margin-bottom:0;margin-left:0;margin-right:0}#detail_decorate_root .magic-15{margin-top:0;margin-left:0;width:750px;height:290.625px}#detail_decorate_root .magic-16{overflow:hidden;width:750px;height:562.5px;margin-top:0;margin-bottom:0;margin-left:0;margin-right:0}#detail_decorate_root .magic-17{margin-top:0;margin-left:0;width:750px;height:562.5px}#detail_decorate_root .magic-18{overflow:hidden;width:750px;height:600.9375px;margin-top:0;margin-bottom:0;margin-left:0;margin-right:0}#detail_decorate_root .magic-19{margin-top:0;margin-left:0;width:750px;height:600.9375px}#detail_decorate_root .magic-20{border-bottom-style:solid;border-bottom-color:#53647a;font-family:Roboto;font-size:24px;color:#53647a;font-style:normal;border-bottom-width:2px;padding-top:8px;padding-bottom:4px}#detail_decorate_root .magic-21{margin-bottom:10px;line-height:0}#detail_decorate_root .magic-22{margin-bottom:10px}#detail_decorate_root .magic-23{position:relative;width:100%}#detail_decorate_root .magic-24{overflow:hidden;width:750px;height:408.75px;margin-top:0;margin-bottom:0;margin-left:0;margin-right:0}#detail_decorate_root .magic-25{margin-top:0;margin-left:0;width:750px;height:408.75px}#detail_decorate_root .magic-26{min-height:18px;padding:5px 10px;width:97px;min-height:18px;box-sizing:content-box}#detail_decorate_root .magic-27{font-size:12px}#detail_decorate_root .magic-28{min-height:18px;padding:5px 10px;width:47px;min-height:18px;box-sizing:content-box}#detail_decorate_root .magic-29{min-height:18px;padding:5px 10px;width:45px;min-height:18px;box-sizing:content-box}#detail_decorate_root .magic-30{min-height:18px;padding:5px 10px;width:52px;min-height:18px;box-sizing:content-box}#detail_decorate_root .magic-31{min-height:18px;padding:5px 10px;width:50px;min-height:18px;box-sizing:content-box}#detail_decorate_root .magic-32{min-height:18px;padding:5px 10px;width:51px;min-height:18px;box-sizing:content-box}#detail_decorate_root .magic-33{overflow:hidden;width:750px;height:543px;margin-top:0;margin-bottom:0;margin-left:0;margin-right:0}#detail_decorate_root .magic-34{margin-top:0;margin-left:0;width:750px;height:543px}#detail_decorate_root .magic-35{overflow:hidden;width:750px;height:574.6875px;margin-top:0;margin-bottom:0;margin-left:0;margin-right:0}#detail_decorate_root .magic-36{margin-top:0;margin-left:0;width:750px;height:574.6875px}#detail_decorate_root .magic-37{margin-bottom:10px;overflow:hidden}#detail_decorate_root .magic-38{overflow:hidden;width:750px;height:861.5625px;margin-top:0;margin-bottom:0;margin-left:0;margin-right:0}#detail_decorate_root .magic-39{margin-top:0;margin-left:0;width:750px;height:861.5625px}#detail_decorate_root .magic-40{overflow:hidden;width:750px;height:454.6875px;margin-top:0;margin-bottom:0;margin-left:0;margin-right:0}#detail_decorate_root .magic-41{margin-top:0;margin-left:0;width:750px;height:454.6875px}#detail_decorate_root .magic-42{overflow:hidden;width:750px;height:459.375px;margin-top:0;margin-bottom:0;margin-left:0;margin-right:0}#detail_decorate_root .magic-43{margin-top:0;margin-left:0;width:750px;height:459.375px}#detail_decorate_root .magic-44{overflow:hidden;width:750px;height:576.5625px;margin-top:0;margin-bottom:0;margin-left:0;margin-right:0}#detail_decorate_root .magic-45{margin-top:0;margin-left:0;width:750px;height:576.5625px}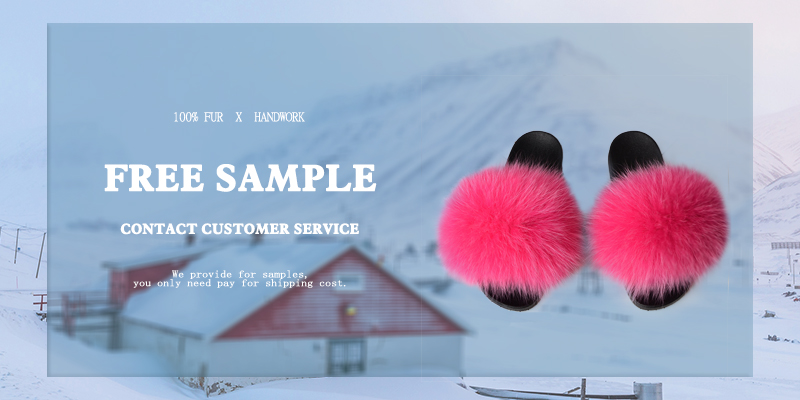 Product Description SCTX08 comfortable nonslip fur slide colorful women fluffy slippers
| | |
| --- | --- |
| OEM/ODM: | Accept Customized Brand design, logo, label |
| MOQ: | 1 pair,Customized to be negotiated |
| Color: | Pink,Yellow,White,Black,Green,or custom |
| material: | EVA/PVC rabbit fur, fox fur, mink fur, raccoon fur, lamb fur |
| Delivery: | Alibaba.com Express,EMS, FedEx, UPS, DHL, by air or Any others |
| Payment: | Trade Assurance on Alibaba, TT, Western Union,Paypal,MoneyGram etc. |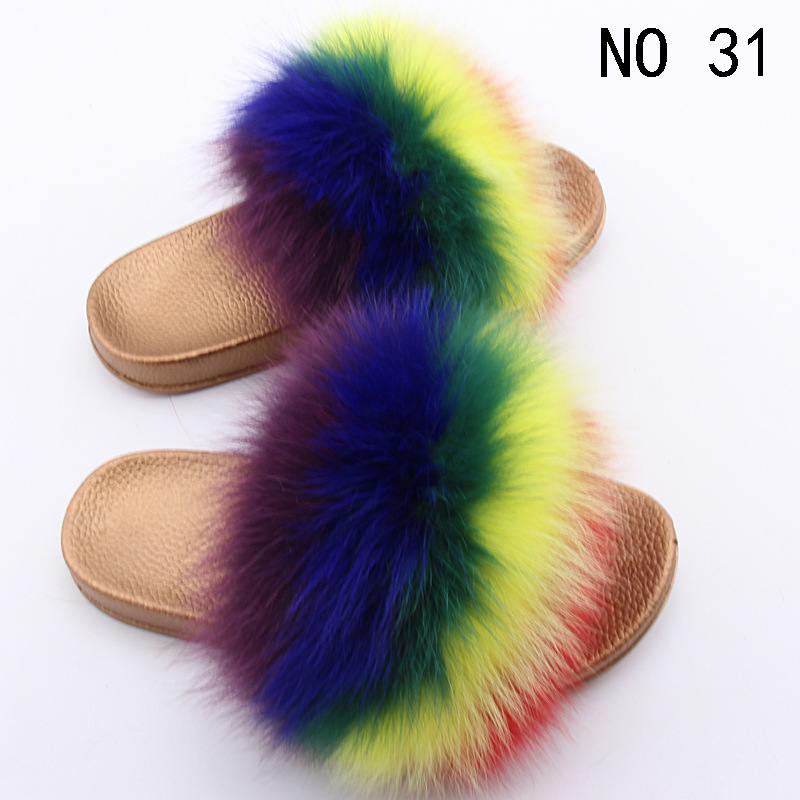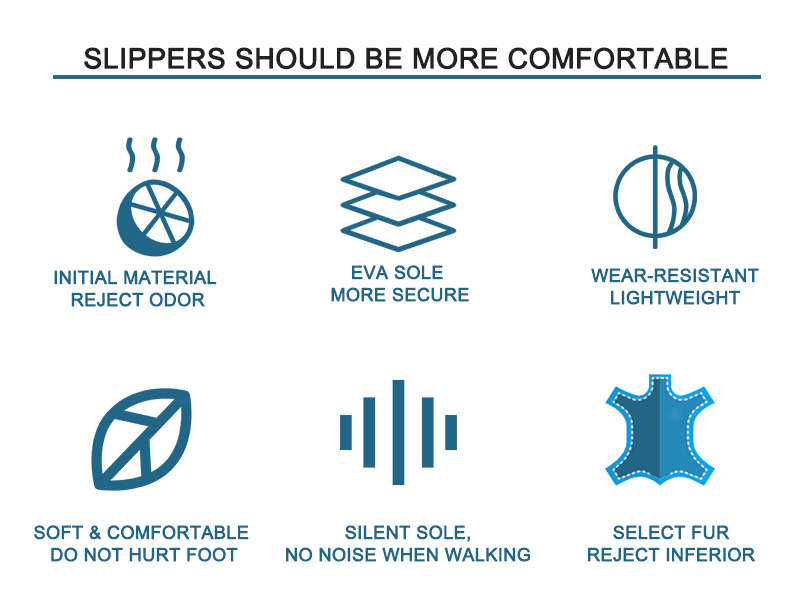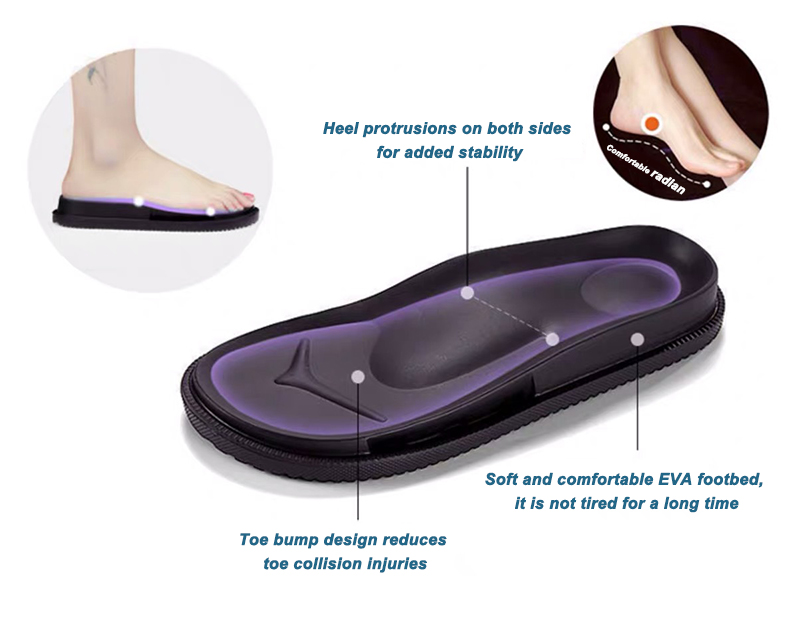 Real Show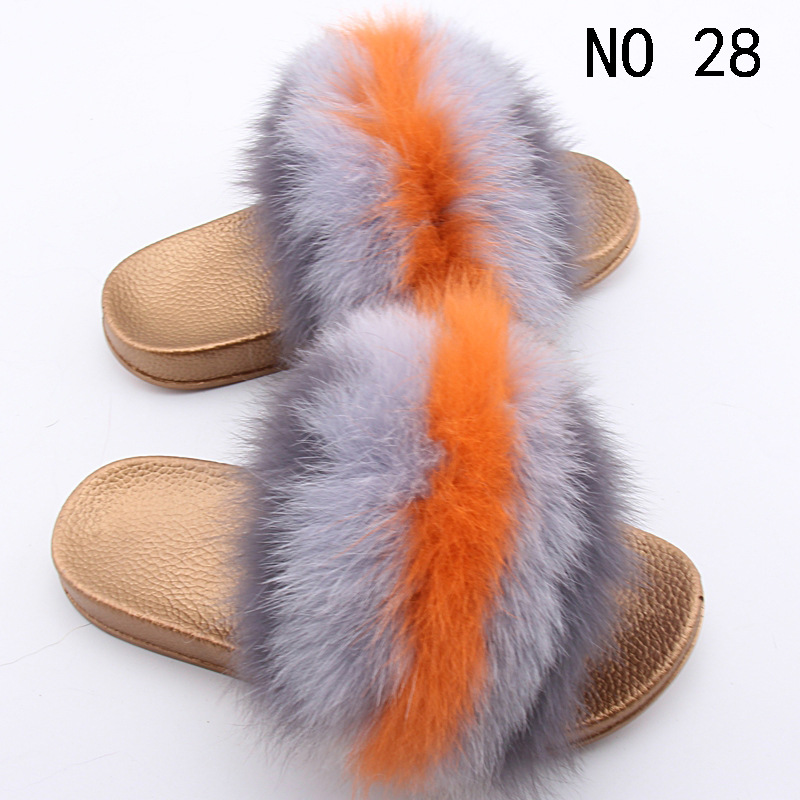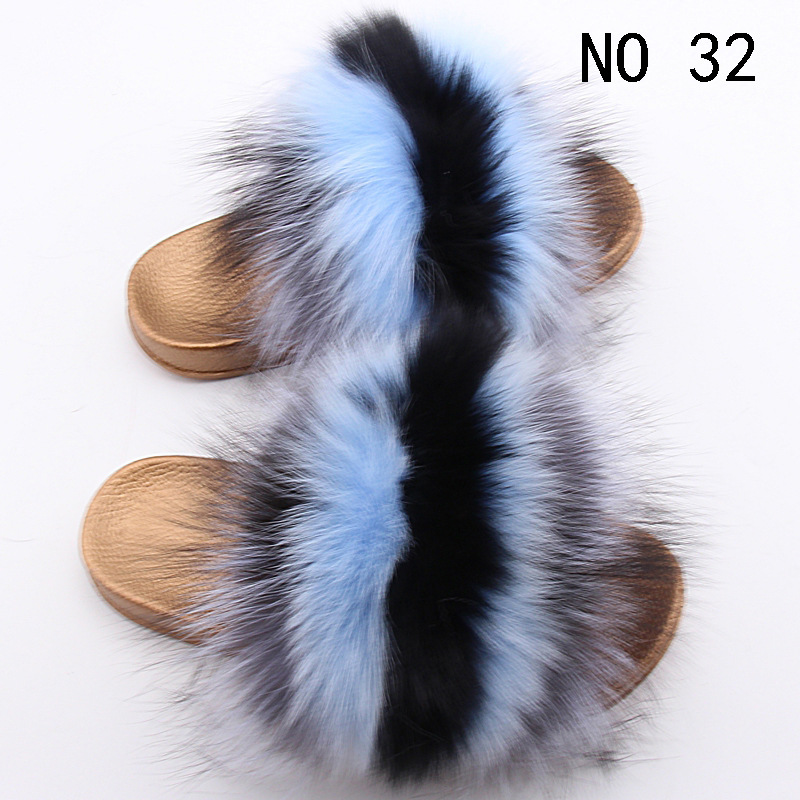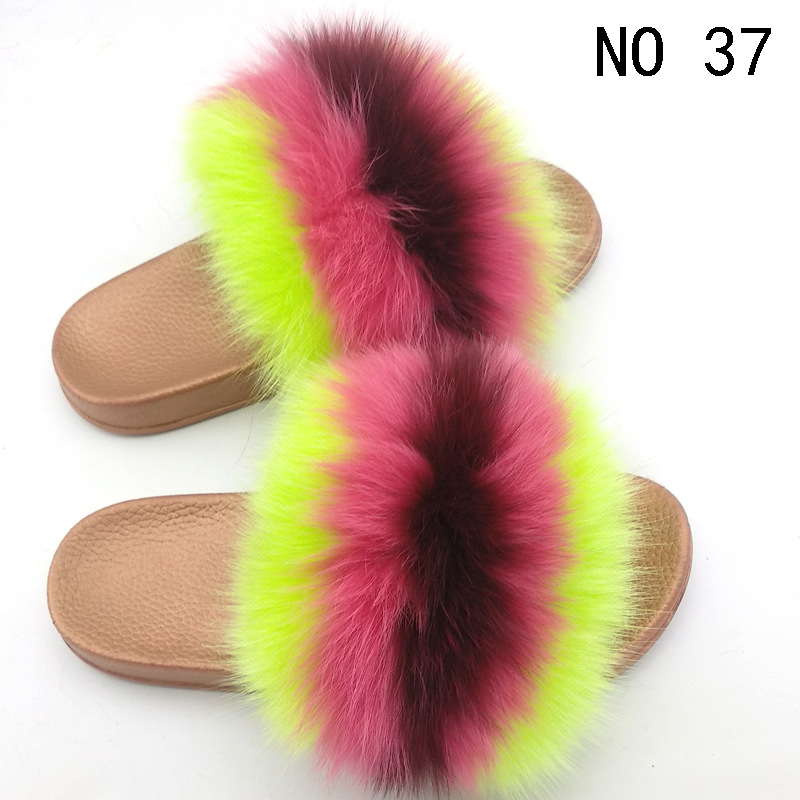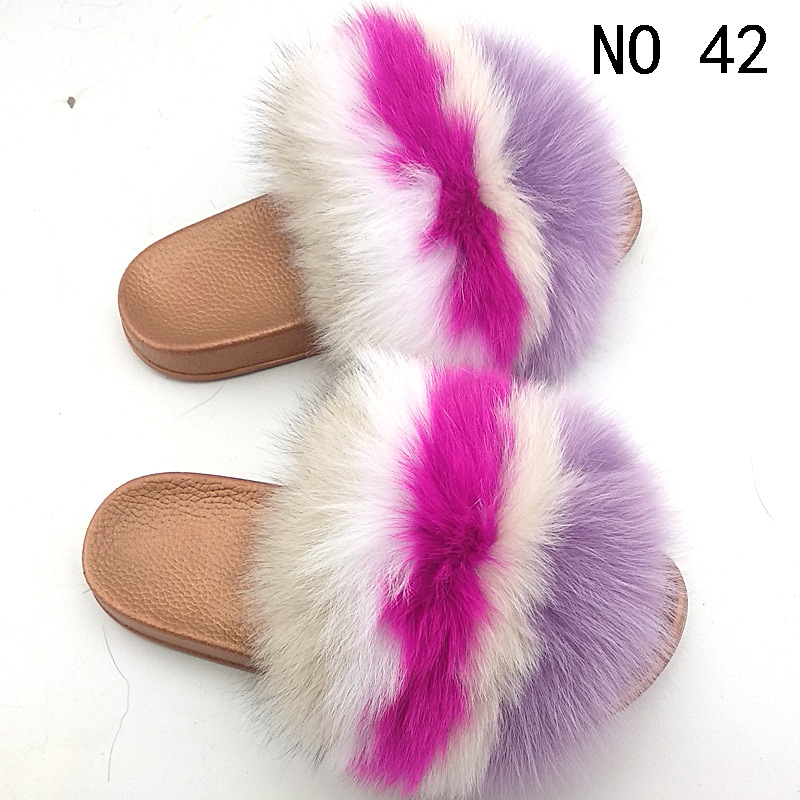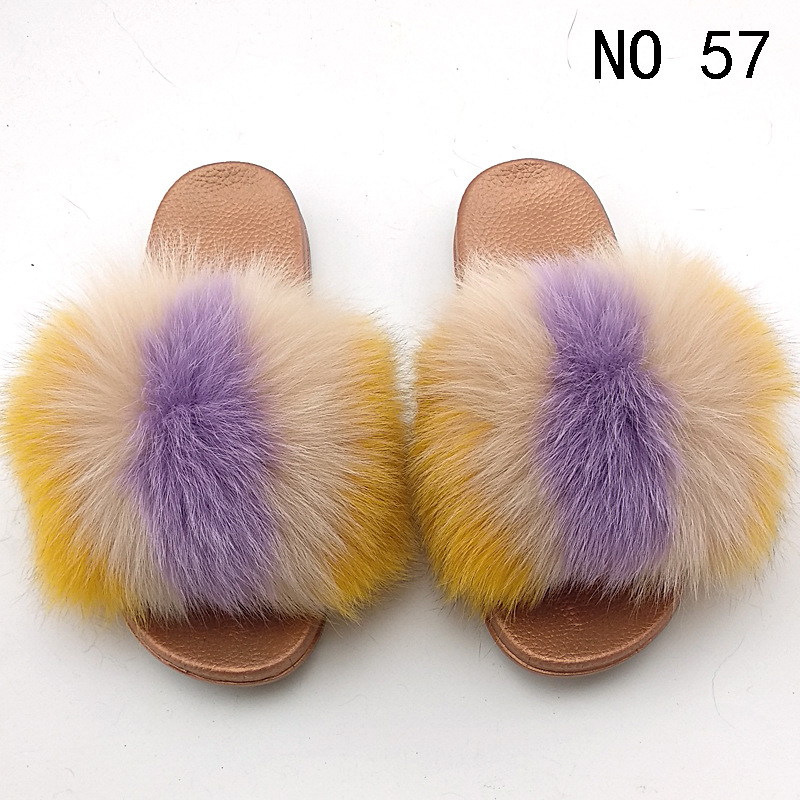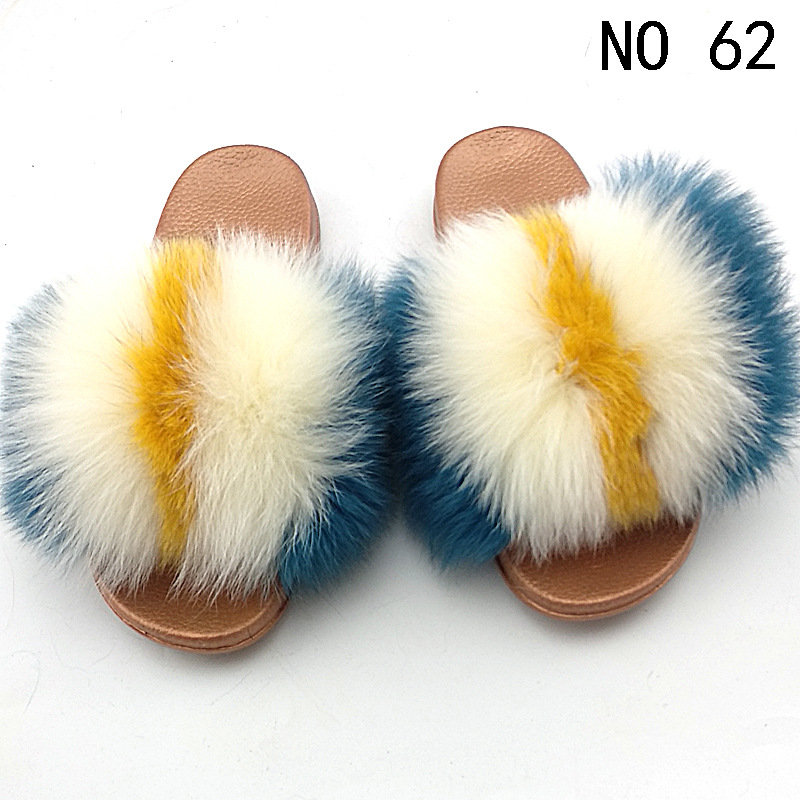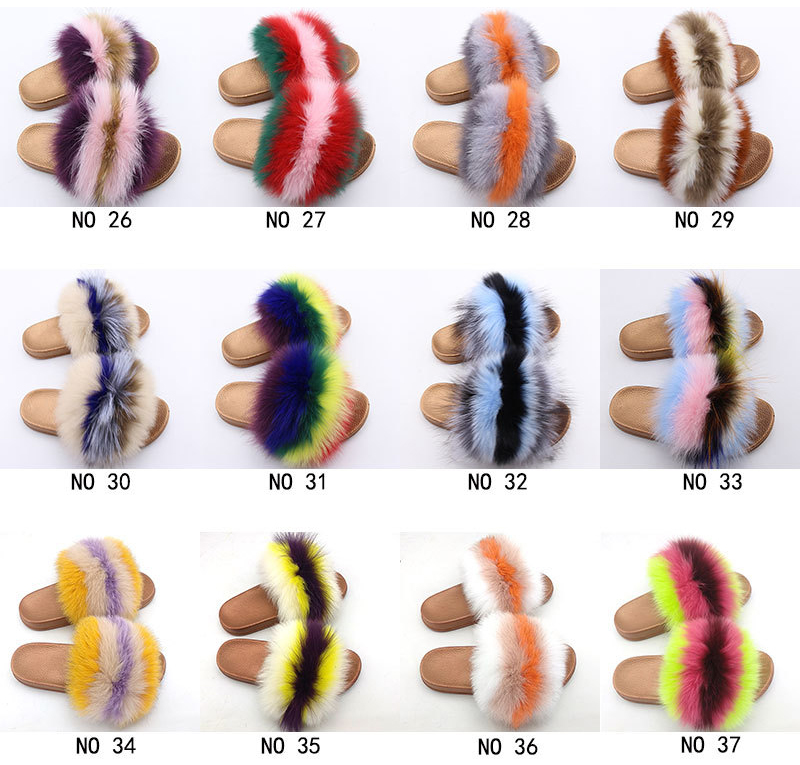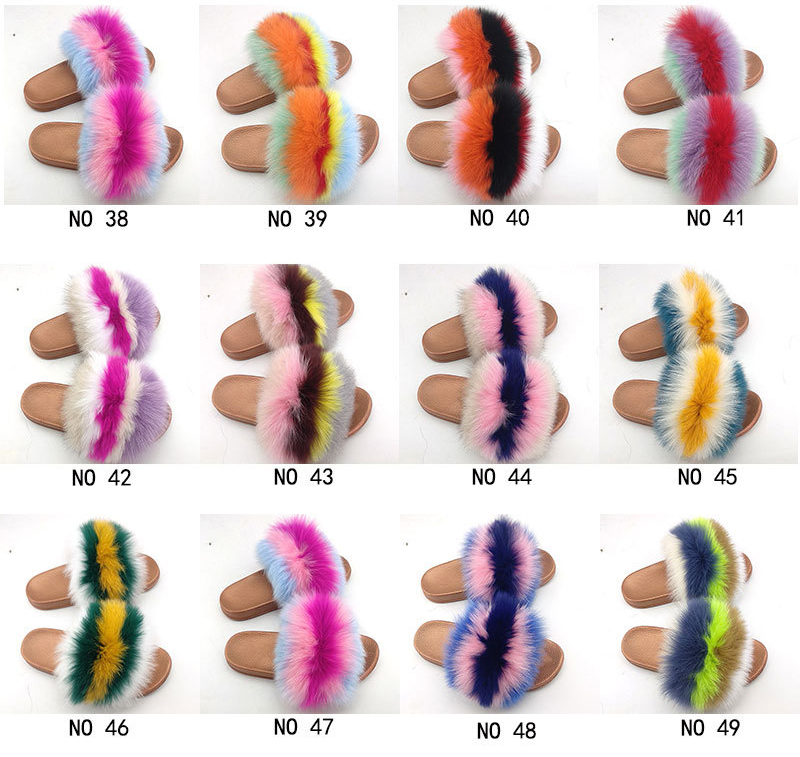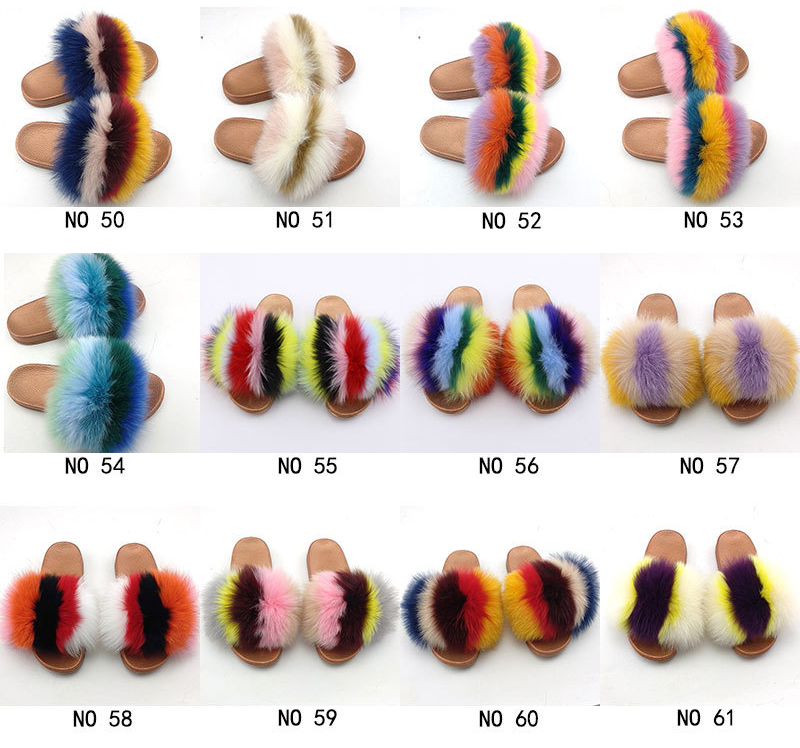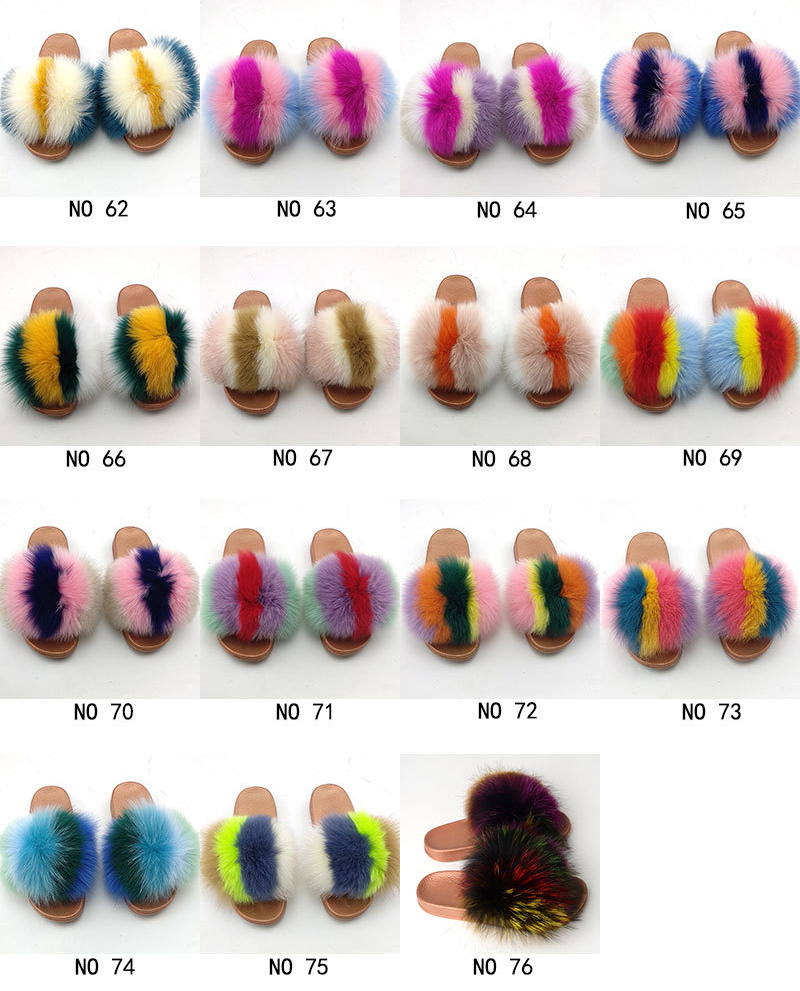 Size & Color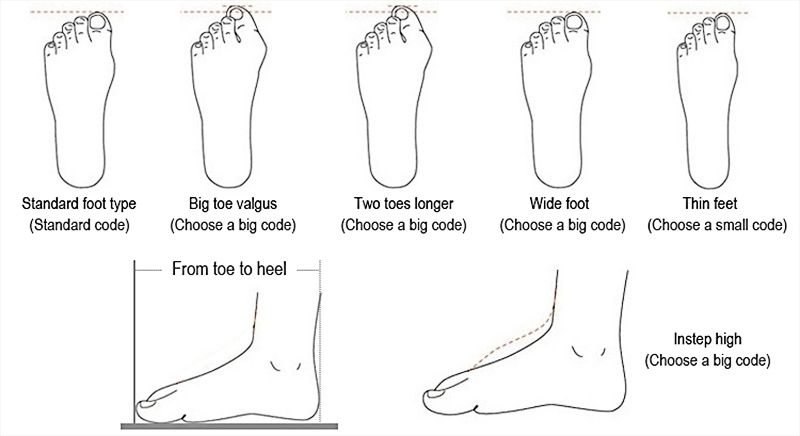 | | | | | | | | | | |
| --- | --- | --- | --- | --- | --- | --- | --- | --- | --- |
| US SIZE  (EVA) | 6.5 | 7 | 7.5 | 8 | 8.5 | 9 | 9.5 | 10 | 10.5 |
| EU SIZE  (EVA) | 36 | 37 | 38 | 39 | 40 | 41 | 42 | 43 | 44 |
| Foot Length(mm) | 230 | 235 | 240 | 245 | 250 | 255 | 260 | 265 | 270 |
| | | | | | | | | | |
| --- | --- | --- | --- | --- | --- | --- | --- | --- | --- |
| US SIZE  (PVC) | 5 | 6 | 7 | 8 | 9 | 10 | 11 | 12 | 13 |
| EU SIZE  (PVC) | 36 | 37 | 38 | 39 | 40 | 41 | 42 | 43 | 44 |
| Foot Length(mm) | 235 | 240 | 245 | 250 | 255 | 260 | 265 | 270 | 275 |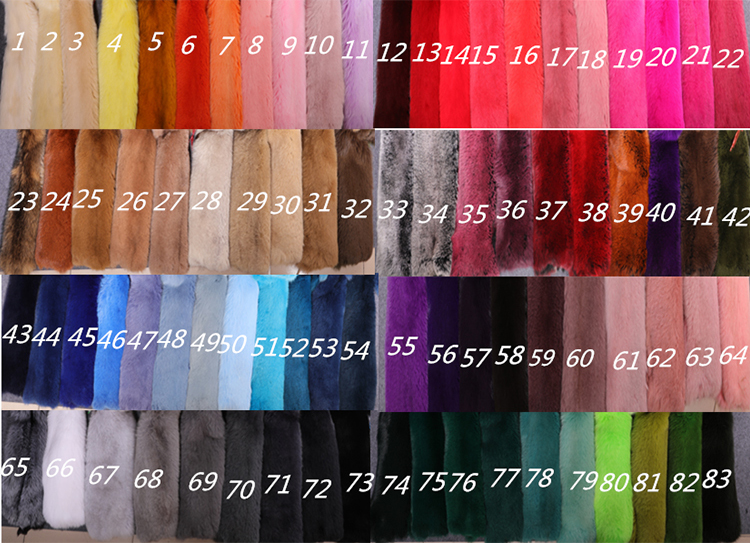 Customer feedback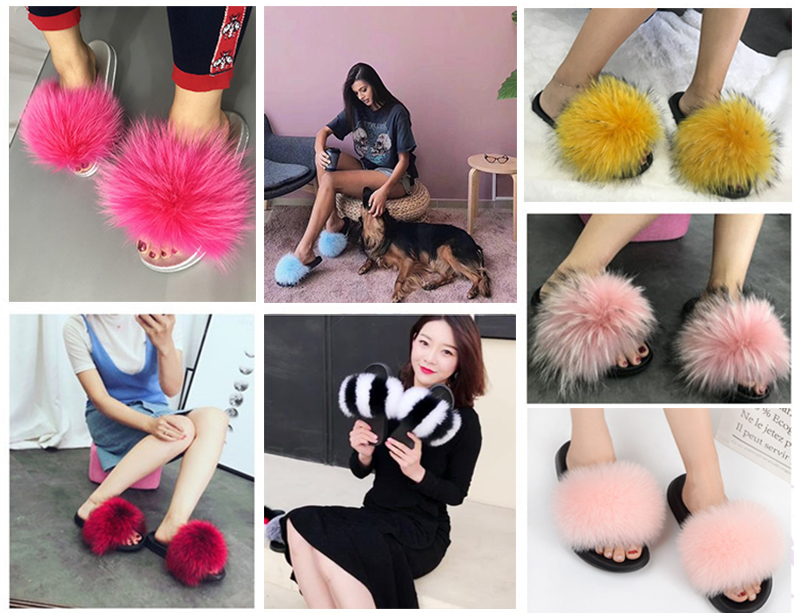 Our Advantages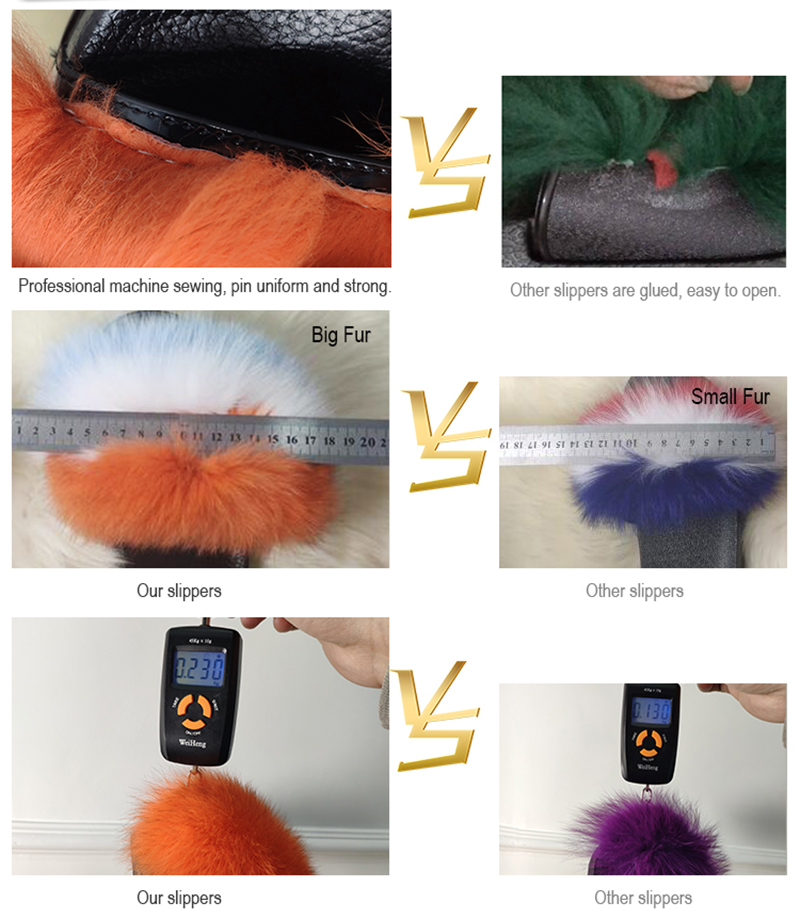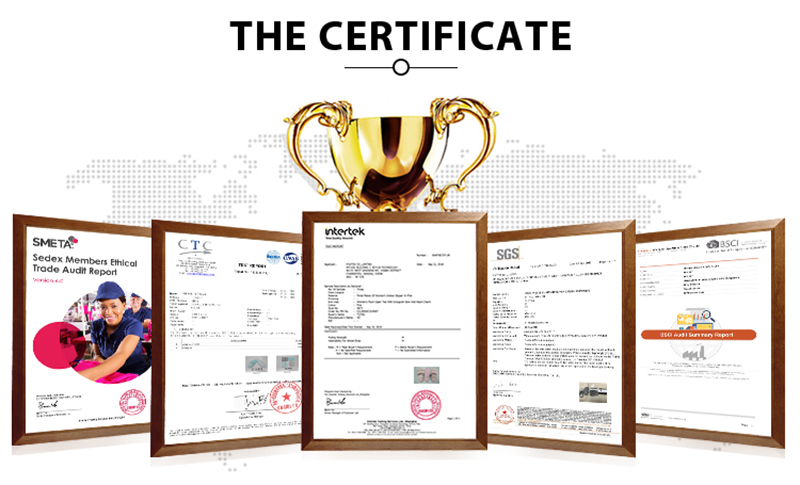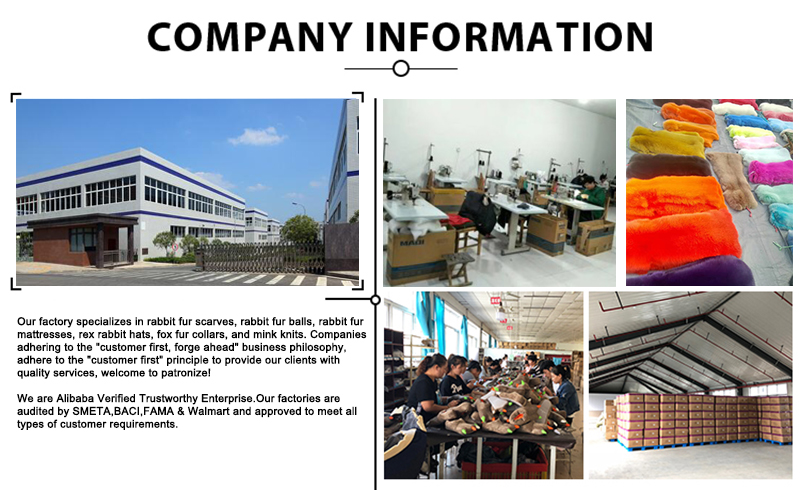 Why Choose Us 1.ProfessionalWe are Alibaba Verified Trustworthy Enterprise.Our factories are audited by SMETA,BACI,FAMA & Walmart and approved
to meet all types of customer requirements.
2.Innovative
We developed 2025 styles of house slippers with collection of 19023 types of new materials for 2019.
3.Experience
Our factory has been making fur garments and accessories for 7 years. We can make all materials: rabbit fur, fox fur, mink fur,raccoon fur, lamb fur…
4.OEM&ODM
ServicesWe have our own designer, and we can make your labels and packing as requested.
5.Guarantee
Our experienced QC team will overlook both pre-production quality and final packed production quality. Shipping & Payment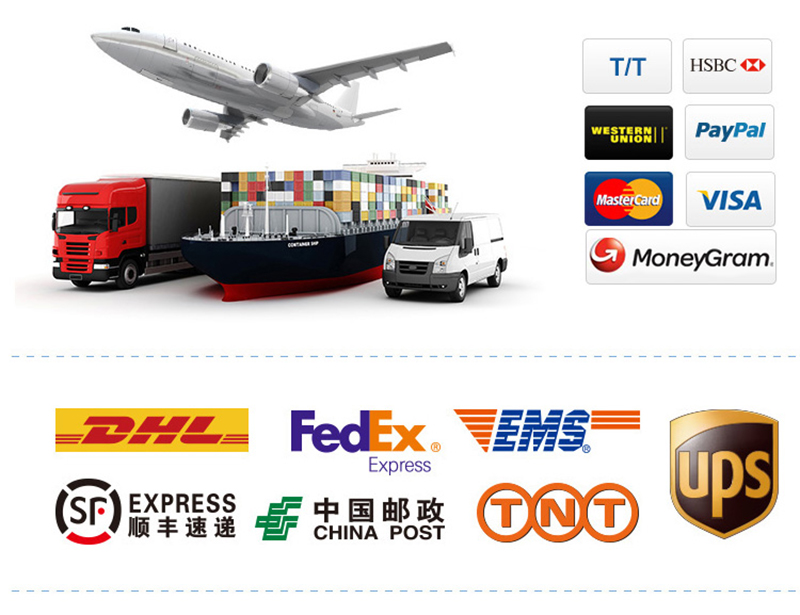 FAQ 1. Could I use own design, logo, label? OEM & ODM are both acceptable.Customized design,logo, printing, label, color,package all are available.2. How can I get some samples? Yes, welcome sample order to confirm the quality.The exsiting samples are available any time for you to test the quality, but for leather styles we will charge both samples and express cost; 3. What is your MOQ? For our stock items,1 piece is available.If it is customed, 50 pairs per color per style at least.We can discuss the detail if you have special request on quantity. 4. About the quality control? We do quality test before packing.Before shipping we will send samples for your double confirmation. 5. The bulk production time? For stock products we will send goods to you within 5-6 days after receiving your payment.For custom make products, will depend on your order quantity. 6. How can I pay? Trade Assurance on Alibaba, TT, Western Union,Paypal,MoneyGram etc.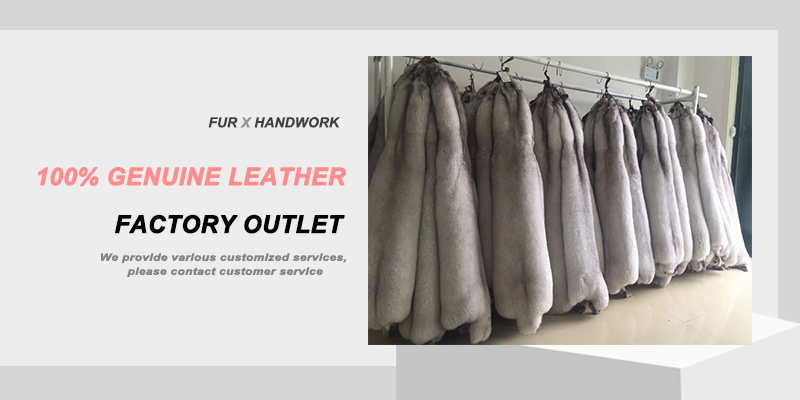 Contact us if you need more details on sandals for women colorful. We are ready to answer your questions on packaging, logistics, certification or any other aspects about rainbow fox fur slides、fox fur slide women. If these products fail to match your need, please contact us and we would like to provide relevant information.
Product Categories : Fur slippers > fur women slippers